WinCT Moisture Software
The WinCT-Moisture is ideal software to use when measuring with either MX,MF or MS Moisture Analyzers.
---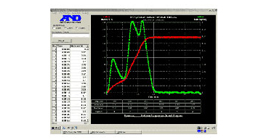 ---
Additional Information
Additionally, WinCT-Moisture includes software called RS-Fig. The RS-Fig software shows the Time Line and Moisture (%) line graph. You can repeat the measurement then display it with a different colored line to visually see the change of the sample under test. If you want to see the change in detail then the scaling function allows this by entering required number to Max and Min. of Time Line and Moisture Line
Should you need to send a report to customers, or keep the record in your company, WinCT-Moisture has the function to send the measured data to a PC as a 'csv' file to store or send and as an E-mail attachment.
RsFig
Data received from Moisture analyzer MX/MF via RS-232C can be displayed as a graph in real time. Changes in the moisture content rate can be checked and this program is effective for determining the measurement conditions. (RsFig: Software for displaying graphs of moisture content)
RsTemp
Moisture Analyzer MX/MF's heating temperature is automatically changed via RS-232C to more suitable temperature setting for the sample's moisture content determination in about 30 minutes. (RsTemp: Optimum Temperature Search Program).
---