WinCT Viscosity Software
This software enables A&D's Sine-wave Vibro Viscometer SV Series to display the progress of measurement in real time on a PC or easily transmit the measured results (data) to save or analyze.
---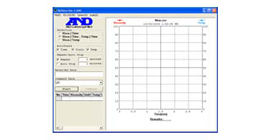 ---
Additional Information
Rs Key and RS Com modules are also available with WinCT Viscosity.
Rs Key allows the direct load of measurement data into the application of your choice, ie Excel, while Rs Com is a notebook style format ideal for product monitoring. WinCT Viscosity is supplied as standard with all SV Viscometers and comes complete with PC cables, for immediate use.
---