A&D Dolphin Intelligent Inline Checkweigher
Australian designed and made, A&D Dolphin inline automatic checkweighing system. Fully customiseable options available with complete system & line integration. Compact, hygienic stainless steel design checkweigher, easy cleaning & maintenance, High & Low capacity versions available.
---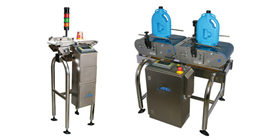 ---
Features
Australasia's own inline checkweigher
Light or heavy versions up to 30kg
Compact Stainless Steel Design
Easy Cleaning and maintenance
Designed to meet the requirements of HACCP
Weight classification up to 5 Zones and Alarm
Customisable operator display
Designed and Manufactured in Australia
PC & data capture software available
---
Additional Information
Standard RS485 ASCII and Modbus Serial I/O
Standard Current Loop Serial Output
Optional Fieldbus – DeviceNet, Profibus and CC-Link
Optional 4-20mA Analog Output
Optional Metal Detector Interface
A&D Checkweigher Questionnaire
A&D Metal Detector Information Questionnaire
Applications
Industries: Chemical, Dairy, Fish, Meat, Pharmaceuticals, Poultry etc.
Products: Bottles, Boxes, Cans, Pouches, Satchels, Tray, Tubes etc.
---
Related video
---