EZI-CHECK In-Line Checkweigher
Are you required to ensure you supply correct weights to supermarkets? The EZI-Check™ is our new high speed in-line Checkweigher used to weigh, classify & segregate products based on weight. It is Japanese designed to provide high level performance, accuracy and reliability, and can easily adapt to your existing lines and needs.
---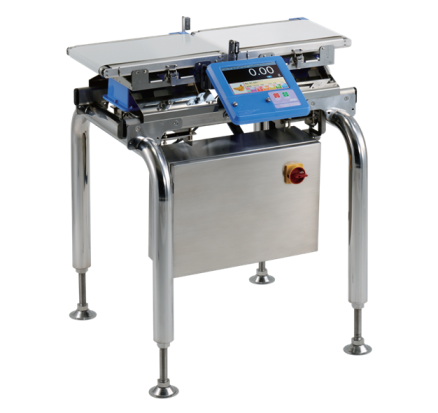 ---
Features
EZI-Check™ Light Capacity up to 2000g and 6000g
Customisable operator display
The modular construction reduces system downtime and lightweight structure allow easy assembly and transportation
A&D's original, automatic adjustment function, enables easy product parameter settings. It allows the user to easily set optimal parameter settings or adjustments
In the case of weighing several different products in a production line, it enables an operator, or supervisor, to switch to another production batch with minimal downtime
A setting can be copied to several checkweighers via a USB memory or Ethernet. This simple and easy operation enables reduced setup times and minimises human errors
The checkweigher is equipped with A&D's original, high speed, Digital Signal Processing (DSP). A high performance digital filter and state of the art digital signal processing technology enables the checkweigher to achieve 'best in class' weighing accuracy of 3σ=0.08g
Dual range model. The checkweigher's weighing range and resolution can be selected from 500g x 0.01g or 2000g x 0.1g. This provides optimal weighing accuracy over a wide weighing range
The checkweigher's stainless steel frame construction meets IP65 waterproof and dust resistance requirements, at an entry-level price.
It is lightweight whilst achieving high rigidity which results in accurate measurements
Unlike most checkweighers, the A&D checkweigher does not use timing-belts. This enables easier cleaning and maintenance
The sanitary construction prevents dirt, product or water build-up and keeps the checkweigher in a clean and hygienic state.
---
Additional Information
EZI-Check™ Checkweigher Checklist
With a new consumer focus on organic and fresh foods and exotic ingredients, supermarkets are increasingly turning to small-to-medium sized Australian food manufacturers for their products. While these contracts are lucrative, they also increase the demands on the manufacturers' processes, necessitating faster production while still maintaining accurate portioning. Accurate weighing of products is critical: it ensures manufacturers are not giving away too much of their product, and at the same time, are not short-changing their customers, which can lead to loss of contracts and fines.
Applications
Industries: Chemical, Dairy, Fish, Meat, Pharmaceuticals, Poultry etc.
Products: Bottles, Boxes, Cans, Pouches, Satchels, Tray, Tubes etc.
---
Related video
Introducing the innovative new EZI-Check Checkweigher & Inspection Systems
---