EZI-CHECK Food Grade Metal Detector
Quality control and reporting demands on the manufacturer/grower are more stringent than ever, so too is the demand for superior and reliable inspection systems that satisfy supermarket and industry standard requirements. Our A&D EZI-Check™ range now includes the EZI-Check™ Conveyor Metal Detector – cleverly manufactured to detect metal contaminants in packaged products, and contributes to the delivery of safe consumer goods. It is Japanese designed to provide an exceptional level of performance, accuracy and reliability, and the compact frame ensures minimal factory space is taken up. A&D Weighing is proud to provide you with the innovative EZI-Check™ Metal Detector, helping to protect the welfare of your customers, and to safeguard your production processes & reputation.
---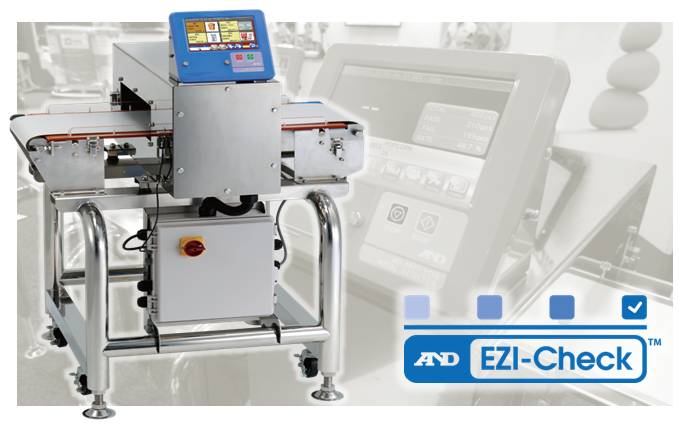 ---
Features
Protected from dust and water (IP65 Standards)
Hygenic design which can be operated in a wet environment and washed down after use
Automatic sensitivity setting function
Easy operation with 7 inch colour touch panel
variable belt speed of 10-60m/min
Standard ethernet i/o allowing easy networking via LAN
Inspection history function can record up to 100 inspection results
Maintenance & cleaning is simple with detachable conveyor belt.
---
Additional Information
With a new consumer focus on organic and fresh foods and exotic ingredients, supermarkets are increasingly turning to small-to-medium sized Australian food manufacturers for their products. While these contracts are lucrative, they also increase the demands on the manufacturers' processes, necessitating faster production while still maintaining accurate portioning. Accurate metal detection inspection of products is critical: it ensures manufacturers are not supplying contaminated product and putting their customers' safety at risk, which can lead to fines, loss of contracts,and more.
Industries: Chemical, Dairy, Fish, Meat, Pharmaceuticals, Poultry etc.
Products: Bottles, Boxes, Cans, Pouches, Satchels, Tray, Tubes etc.
---
Related video
Introducing the EZI-Check Metal Detector Inspection Systems
---