SW High Pressure Washdown. The Ultimate Weighing Machine.
A&D's SW Series is a heavy duty scale with a protection level of IP-69K. Ideally suited for the harshest environment where even good quality waterproof devices are found wanting. Suitable for regular high pressure hosing and cleaning. Don't just take our word for it.. check out the crazy video below!
---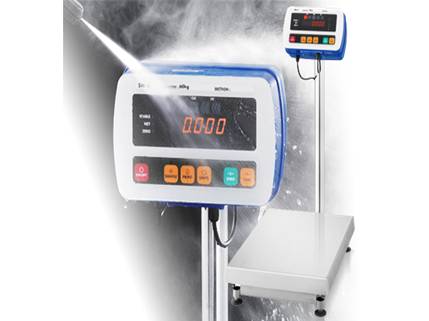 ---
Features
IP69K – the highest level of dust and water protection
Ultimate protection against the effects of condensation
Suitable for high pressure, high temperature washdown
Three weighing ranges-Select the best accuracy level
Streamlined construction for easy cleaning of food-processing residues
Stainless steel weighing pan, frame, and load cell
Rugged and adjustable indicator bracket
Touch sensitive capacitive keys to ensure permanent waterproofing
Bright, multicolored LED display with 5-step comparator lamps for checkweighing applications
Optional desktop/wall-mount stand available instead of the column
Rechargeable battery
Trade Approved by NMI Australia
Two years warranty
---
Additional Information
Suitable for heavy-duty cleaning with high pressure and high temperature water, the SW Series features a hermetically sealed Stainless Steel load cell and is the ideal choice where premium protection is paramount - Maximum protection in hostile environments.
The polycarbonate/ABS head casing solves condensation problems that occur when Stainless Steel scales are used in areas of different temperature.
---
Related video
---