AD-4532B Super High Speed Testing Indicator
A super high speed indicator ideal for all product testing and evaluation applications. A 5 level comparison function coupled with a multi coloured display provides an easy to understand visual test result.
---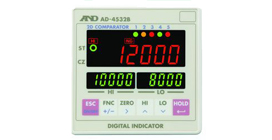 ---
Features
High Speed Weighing- 2000 updates per second
Tri Coloured Display- Immediate recognition of the test status
5 Level Comparator- Multi level settings for a multi level test procedure
Displayed Upper and Lower Setting-Immediate recall of test parameters
4 Different Hold Functions-Select from Peak, Bottom, Sample and Bipolar Hold
Wide Variety of Standard Data I/O- select from an Analog Amplifier Voltage Output (+/-10v), D/A Analog Voltage Output (+/-10v), a Comparator Output and a Modbus RTU I/O
Anti Chatter Functions-Prevents chatter effect demand on the comparator output
---
Additional Information
*Options 01 and 07 are provided with a connector.
Note: Options 01, 04, 07 and 08 cannot be used at the same time, only one option slot is available in the AD4532B.
Perfect for high speed testing applications such as mass ,torque, pressure, tension etc. The high speed update and varitey of hold funtions make the unit perfect for failure rate testing. A multi stage comparator function allows the stage monitoring of a process where the load requirements may vary such as a process of clamping a product under different loads.
---