SJ-WP Compact Checkweighing Bench Scale
At first glance, you will notice that the SJ-WP series looks remarkably different from other scales you may have come across before. With this unique construction, A&D offers a number of innovations that ensures the highest level of protection in weight measurement. Don't take our word for it.. watch this video.
---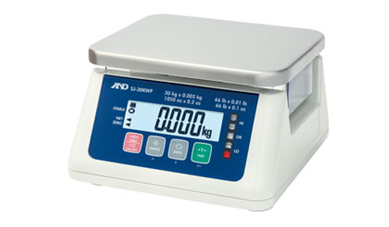 ---
Features
Submersible, IP67 dust and waterproof for thorough washing
Externally mounted load cell to realize fast stabilization (max. 0.5 seconds)
5000 hours of continuous operation with 6 D alkaline batteries (LED and backlight off)
Large LCD display (26 mm character height) with white backlight
Bright and multi-colored 5-step LED comparator lamps
Take-away check weighing using the auto-tare function
Touch sensitive capacitive keys to prevent damage from sharp objects
Scratch-free and hygienic stainless steel (SUS304) weighing pan
Removable, transparent pan support with overhanging panels to shield the load cell
Waterproof and anti-corrosive load cell with integrated overload protection mechanism
Four selectable weighing resolutions from 1/3,000 up to 1/30,000
Multiple weighing units: g, kg, lb, oz, ozt, lb-oz, tael, tola, Newton
Counting mode function
Auto power OFF function
Battery life indicator and battery life when used continually has 5,000 hours meaning that in a typical working week the batteries could last over 2 years, so no need to constantly recharge batteries or worry about mains adaptors.
---
Additional Information
The scale can automatically Tare when the weight reaches your set target range, saving you time and repetitive manual operations.
---
Related video
A&D's innovative SJ-WP scales weigh with the speed of lights!
---