EJ Series Affordable Compact Balances – From only $505 (ex GST)!
Don't waste time Scouting around.. start working hard with A&D's EJ Compact Balance. Popular in schools around the world, it outperforms other higher priced scales while still maintaining a compact size. These accurate, high quailty, attractive, stackable units are perfect for applications where portability or easy storage are paramount.
---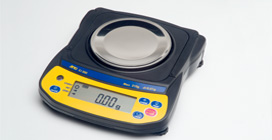 ---
Features
Don't pay over $850 - Scale Broker NZ price from545! (ex GST)
A&D's Leading three years warranty
Connect to most PC applications with optional USB or Serial comms and A&D Win CT software
Unique & Engaging Colour Scheme
Multiple Measurement Units including a counting and percentage mode
Security Feature for protecting the balance from theft
Stacking Feature allows easy and convenient storage of multiple units
Calculates Density automatically when using the optional Density Determination Kit
Simple Keyboard Function
AC or Battery Operation (4 x AA)
Configurable Mode Key allows customisation of balance to suit users needs
Backlit Display can be set to switch off after a specified time period
Underhook weighing on 0.1g models only
Comparator Function gives a visual reference against a set target weight
Modular Styling allows simple fitting of the breeze break and density options
---
Additional Information
A perfect solution as a teaching or instructional balance given it's ease of operation, high flexibility, ease of storage and transportation plus the innovative features such as the density determination capability. Also ideal for field work where battery operation and a high visibility display are essential. Can be locked down to prevent theft so ideal for work areas with a high throughput of occupants.
---