SV-A Series Vibro Viscometers
The SV-A is the latest addition to the family of revolutionary Sine Wave Vibro Viscometers. The SV-10 and SV-100 have introduced a ground breaking new discipline to the viscometry market with their ease of operation, high accuracy and fast testing times.
---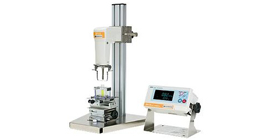 ---
Features
A&D's Industry Leading Five year Warranty
Very small sample size: The SV-1A requires a sample volume of only 2ml (SV-10A: 10ml or more) so users do not waste any samples and can save costs
Titanium sensor plates: Anti-corrosive, titanium (JIS Class 2) sensor plates, which are resistant to chemical substances
X-Y-Z stage: Fine position adjustment of the sample cup in three axial directions
Detachable sensor unit: The sensor unit can be detached from the stand and conveniently used for field research purposes
Standard carrying case: A portable carrying case is provided as standard for field research purposes
Auto hold function: When the change of the displayed viscosity value is within the stabilization range for a fixed period of averaging time, the Stability value is set to hold. This function is useful when measuring in the field
---
Additional Information
The SV-A Series continues the revolution of the vibro viscometer technology. This new range allows for the accurate measurement of sample sizes as small as 2 ml with 1 % accuracy. The SV-A features a host of options ensuring the unit can be configured to provide you with optimum measurement conditions.
---
Related video
---