Pipette Accuracy Testing System from A&D
A complete test and reporting system for pipette accuracy based on the gravimetric method and complying with ISO Standard 8655. The Pipette Accuracy Tester includes an analytical or precision weighing system with extensive reporting software.
---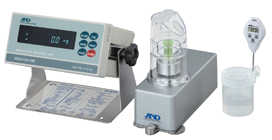 ---
Features
A&D's Industry Leading Five year warranty
Win CT Pipette Software - ISO8655 Pipette management & compliance suite
Complies with ISO 8655 for Piston Operated Volumetric Apparatus
Uses the Gravitric Method of determining volume by coverting mass measurement
3 Models cover a wide range of pipette volumes from 1 microlitre upwards
Complete Testing System is supplied in aluminium transportation case
High Grade Calibration Mass supplied as standard
30 ml and 5 ml Sample Cups to receive dispensed samples
Evaporation Trap to ensure maximum recorded accuracy of dispnesed samples
High Grade Thermometer supplied as standard to ensure accurate recrding of sample temperature
Acceptance Tolerances can be manually overwritten to suit each locations test requirements
---
Additional Information
The Pipette Accuracy is supplied with a USB to serial convertor as standard to enure the unit can be connected to PC's that only feature USB ports.
The pipette accuracy system is perfect for identifying both systematic and random errors of air and direct displacement pipettes. Any facility that has to monitor the accuracy and precision of their pipettes will find this system simple to use and highly effective. The identification of faulty pipettes, in house, can help save expensive third party charges for this same service. The unit is also perfect as a training aid allowing a new operator to test and hone their pipetting skill through repetitive operations that be monitored for consistency
---
Related video
---